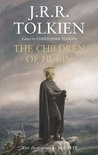 The Children of Húrin
by
J.R.R. Tolkien
S.E rating:
5 of 5 stars
In short, The Children of Húrin is very Tolkien... but much more dark/grim than most people have read.
I own the Alan Lee illustrated version and the audiobook narrated by none other than Saruman-actor Christopher Lee. Extremely dark! A dense read made easier by the narration and tenor of Lee. Listening to C.Lee while looking at A.Lee's illustrations (who was concept artist for the movies too) is a great experience.
Audible Book Link
- click to listen to sample
If anyone thinks JRR only wrote happy fairytales, then they will be surprised by this ultradark tale. On the other hand, Tolkien-tropes/style are still very much present:
1)
A dragon
, Glaurong, terrorizes Middle Earth (reminiscent of Smaug in the Hobbit)
2)
Evil villain-god
Glaurong is a servant of Morgoth, once named Melkor whose lieutenant Sauron appears in LOTR; Morgoth has a large role in this book.
3)
Forbidden man and elf-woman relationships
, in this case Turin has a few relationships with women, and elves, but one relationship echoes that of Aragorn & Arwen from LOTR ... which echoes that of Bereth and Luthien in and Tale of Tunuviel
4)
Abandoned Dwarf place
: in the Hobbit and LOTR we were treated to ruined Dwarf holds (Erebor and the Mines of Moria); here we have the petty-dwarf Mim and his abandoned hold Amon Rûdh.
5)
Secretive Elf places
: in the Hobbit and LTOR, we had Rivendell and Lothlórien... here we are graced with Doriath and Nargothrond)
These Tolkien-tropes reinforced my take on the Hobbit and LOTR's themes; if you've read those and are entertaining reading the Silmarillion, I suggest reading Hurin first. It is easier to read than
The Silmarillion
and expands the milieu well.
The Children of Húrin
really extends the World of the Hobbit and Return of the King. Easier to read than the Similarion, but still pretty thick. From this I learned lots of nuances (like Elrond is half-human). Would make an awesome movie (which will not happen :( ). Highly recommended.
View all my reviews