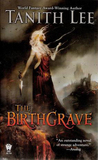 The Birthgrave
by
Tanith Lee
S.E. Lindberg rating:
4 of 5 stars
Haunting Release
:
The Birthgrave
is a coming of age novel of (and by) a female goddess.
Tanith Lee
's debut novel is adult oriented, dark fantasy. This one is epic, dosed with poetic horror and battle, and features lots of risky writing (entertaining). The 2015 reprint comes with a haunting introduction written in January, just months before her May death coinciding with the paperback release in the US.
The female narrator quests to free her body/soul from a curse; although suffering from amnesia as she awakens from an active volcano, she learns that she is a goddess among humans… and she knows her ancestors are all mysteriously gone. She is alone, powerful, and yet ignorant and weak. There is plenty of rough sexual encounters, not gratuitous but written more dispassionately than romantically – and seems to toy with the stereotypes of the genre.
Marion Zimmer Bradley
's introduction is short yet insightful and touches on this interplay:
Most women in science fiction write from a man's viewpoint. In most human societies, adventures have been structured for men. Women who wish to write of adventure have had to accept, willy-nilly, this limitation. There seems an unspoken assumption in science fiction that science fiction is usually read by men, or, if it is read by women, it is read by those women who are bored with feminine concerns and wish to escape into the world of fantasy where they can change their internal viewpoint and gender and share the adventurous world of men…



…Here is a woman writer whose protagonist is a woman—yet from the very first she takes her destiny in her own hands, neither slave nor chattel. Her adventures are her own. She is not dragged into them by the men in her life, nor served up to the victor as a sexual reward after the battle. For the first time since C. L. Moore's warrior-woman, Jirel of Joiry, we see the woman-adventurer in her own right. But this book is not an enormous allegory of women's liberation, nor an elaborate piece of special pleading. It's just a big delightful feast of excitement and adventure—Introduction by Marion Zimmer Bradley
Expect Ambitious, Risky Writing that Works Most of the Time
: This is a first-person-perspective for 450pages! The content is full of adult psychology and complex mystery, written by a 22yr old! And it is
her
debut novel! How is that for pioneering? Most of the time, the risk taking pays off. The perspective works as it should, and it was easy to forget (even 400 pages in) that I still did not know "her" proper name---but by then I knew "her" so well a name was not needed. She unfolds a mystery with perfect pacing with periodic ghostly encounters and déjà vu moments. There is plenty of commentary about gender roles across barbaric and civilized cultures, though it steered away from being political commentary thankfully. Tanith Lee's gift for poetic language is stunning. The book is saturated with efficient characterizations, like the two below:
If I broke into a run to escape them, would they too run to keep up? My eyes grew strange, and everywhere I looked, I seemed to see the glitter of the Knife of Easy Dying. Die, and let them follow me to death if they would. But I was still too new to life to let it go.





…Darak had called them to some council then, on the low hill beyond the houses. Yes, that would be it. A little king on a little throne, lording it because his subjects were smaller than even his smallness.
Avoiding spoilers, I must still note that there is a sudden encounter very late in the novel that seems to shift the genre out of its dark-fantasy-epic mold. Given the 1975 wording and delivery, it would be easy to over emphasize this section. Diehard genre readers feeling sucker-punched may have to sigh or trust my review that ultimately the milieu is consistent. In short order, the story rights its trajectory in a consistent manner.
I really enjoyed reading this experiential novel and am saddened to learn of
Tanith Lee
's death. Thankfully, she was a prolific writer and wrote a large library of weird, dark fantasy… which I look forward to delving into.
The Birthgrave
begins a trilogy; the sequel is
Vazkor, Son of Vazkor
, and the finale is
Quest for the White Witch
. The releases come with new covers from artist
Bastien Lecouffe Deharme
.
Shadowfire book #2 coming
View all my reviews