As posted on Black Gate:
GO ROGUE!: ROGUES IN THE HOUSE, THE ULTIMATE SWORD & SORCERY PODCAST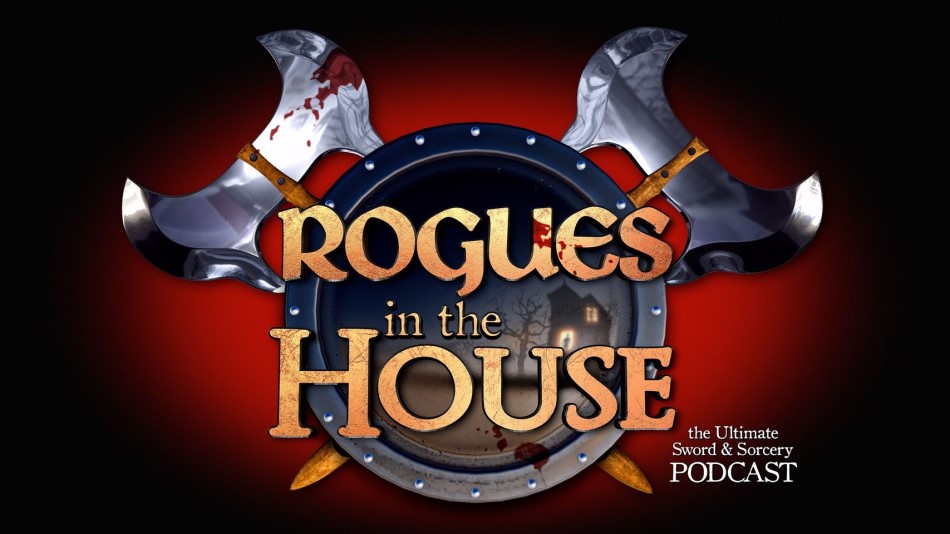 Rogues in the House
In 1934, Weird Tales magazine published Robert E. Howard's Conan story "Rogues in the House." Bob Byrne covered the story on Black Gate as part of his "Hither Came Conan" series.
Just a few years ago, in late 2018, Sword & Sorcery enthusiasts and content creators forged Rogues in the House - the Ultimate S&S Podcast (the link is a portal page to multiple listening Apps). This post spotlights it because it is more than just a source of perspectives. The crew genuinely wants to support a growing community. Their roundtable discussions always start with the "Bazaar of the Bizarre" round table, in which the cast shares recent events or learning opportunities (the session a call out to Fritz Leiber's 1963 Fafhrd and the Gray Mouser story of the same name.
Beyond luring in S&S authors like Howard Andrew Jones, Scott Odenm John R. Fultz, and Jason Ray Carney, they've got guests covering Movies, Video/Board Games, and Art. We embed three selections here:
Select Guests & Episodes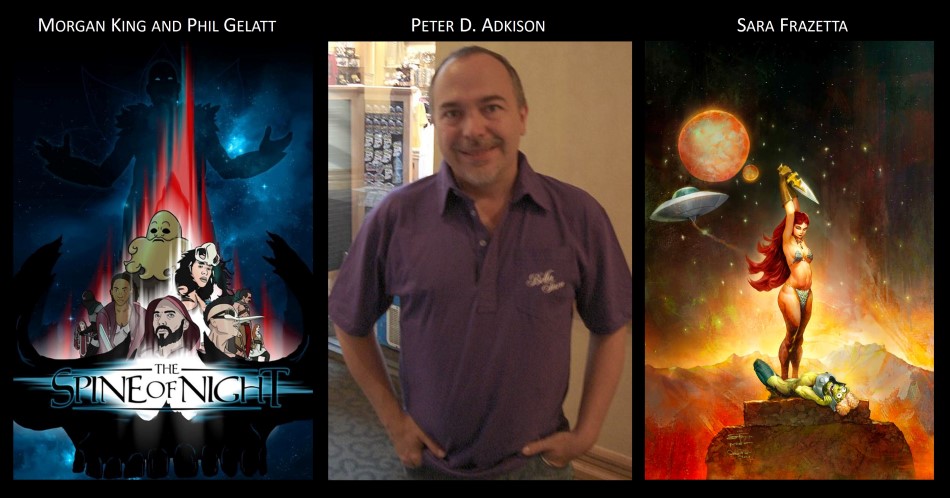 The Rogues
Who comprises the Rogues' cast? The crew's biographies are below, but guests may be labeled "rogues" by association too.
Matthew John
Matthew is an English language arts teacher and employee of Monolith Games (Conan, Batman: Gotham City Chronicles). He lives with his wife, two children, and countless cats and dogs in Nova Scotia, Canada. When time allows, he likes to write short fiction, waste time at the gaming table, and chat sword and sorcery on the Rogues in the House Podcast. His work has been published in Grimdark Magazine, Skelos (SkelosPress), Weirdbook (Wildside Press), and Robert E. Howard's Conan the roleplaying game (Modiphius Games). More of his work will soon appear in Tales From the Magician's Skull (Goodman Games) and the Terminator Role Playing Game (Nightfall Games)
Alex Kostopoulos
Alex's origin story began on the fateful Christmas, on which he received a Nintendo Entertainment System and his first Dragonlance novel. On that day, he held aloft his magic game controller, said the words "I have the power" and became a lifelong nerd. Shortly after that, Alex was introduced to tabletop role playing games and of course, sword and sorcery. Along with Matt and Logan, Alex started the "Rogues in the House" podcast. Today he enjoys playing music (mostly metal), playing games, reading, and all things sword and ______. He is currently pondering starting a band, starting a tabletop campaign, and finishing his miniatures ruleset, but unable to choose which to do first.
Logan D. Whitney
L. D. Whitney was born upon the Great Plains, but now calls the High Desert his home. He is an Educator, modest adventurer, and author of "Remnant" from Primal Press, His short stories appear within the pages of Rogue Blades Entertainment, Weirdbook, and Tales from the Magician's Skull. When not sitting at his desk, he wanders the canyons and crags in search of treasure and inspiration.
Deane L. Geiken
Despite growing up in a small, rural town in East Central Illinois, Deane Geiken was fortunate to discover J.R.R. Tolkien, Robert E. Howard, Michael Moorcock, and other S&S/Fantasy/Sci-Fi authors (plus Avalon Hill games and Dungeons & Dragons). An overwhelming love of all-things-military and western-European history fueled a passion to be an educator; fate then led him into a lifelong career in radio broadcasting. Involved in many historical reenactment groups from the 100 Years War, The American Revolution and Civil War, and World War II, he now has more uniforms than he has socks. And the love of gaming has only grown, with >300 board games in his collection. An avid enthusiast of shooting sports, he has made his own longbows and arrows, flintlock rifles, and gotten quite good at ax throwing. When he is not working as a radio station director at the local community college, he hosts a radio show called "Geekin' With Geiken", creator of a now-defunct podcast called "The Grognards", and current co-host of the "Rogues in the House" podcast.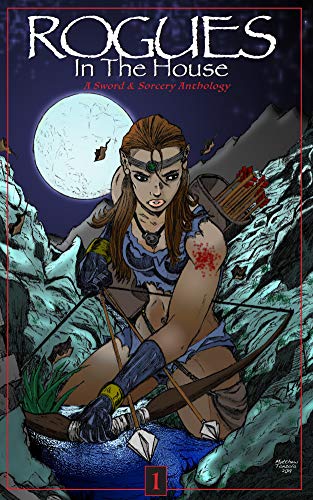 Publication(s):
In late 2019, the Rogues published the anthology Rogues in the House, A Sword & Sorcery Anthology. Logan's introduction explains the purpose:
This short collection is something of a "thank you letter" to all of you .... Thank you for listening, thank you for the tweets, comments, shares, and messages. …

... Here, we are trying to not only give our fans more of what they want – Sword and Sorcery stories – but also improve our product, as all of the proceeds from this endeavor will go directly back into the creation of the podcast. Whether that be actual microphones, technology, or whatever it is that comes up, remains to be seen. But, we thought offering you a product as opposed to asking for money via Patreon or something like that was a better.
Cover Blurb:
A desperate rogue finds more than he bargained for...A Guild of Assassins starts a war with the stroke of a knife...A wanderer on a rescue mission discovers truth living behind legend...Rogues in the House Volume 1 brings short stories, poetry, and artwork FOR fans of Sword and Sorcery BY fans of Sword and Sorcery!
2022, the Rogues promise another volume, a beefier one, S&S luminaries such as John C. Hocking, Howard Andrew Jones, John Fultz, and Scott Oden, and more.
Go Rogue!
Join the critically acclaimed podcast focusing on Sword and Sorcery & Heroic Fantasy.