This post was simulcast on Black Gate.com on Nov-28-2020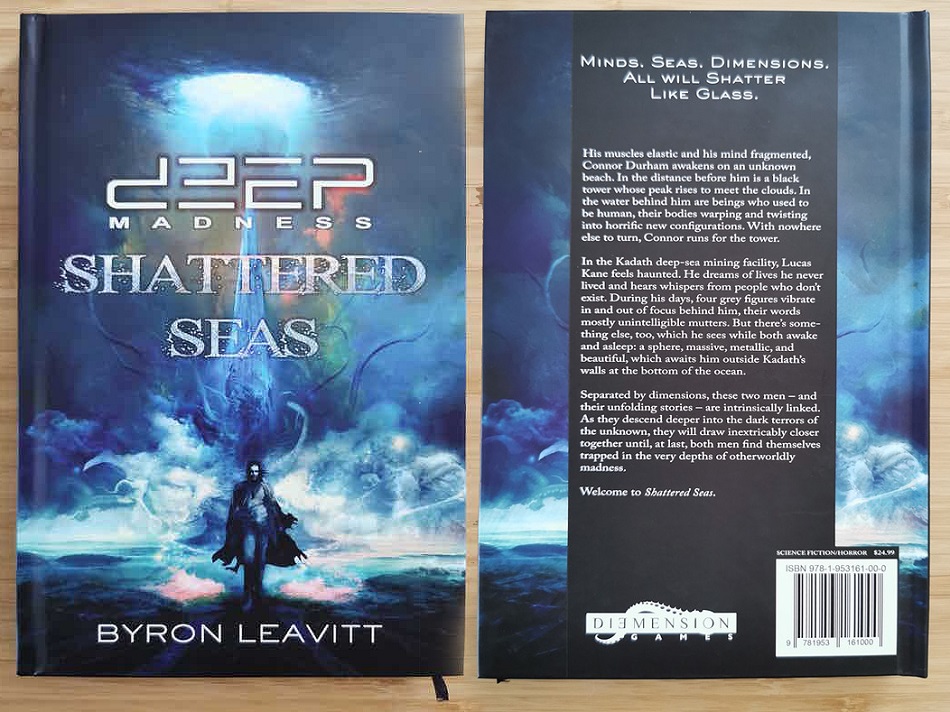 Cover art by Christopher Shy / Cover design by Byron Leavitt.
Shattered Seas is a toxic dose of Lovecraftian mythos, psychedelic team-exploration (reminiscent of Stark Trek voyages), and survival-horror melee (mutant creatures replacing zombies). It's a maelstrom of fun if you enjoy horror adventure, losing your mind, and drowning.

Ever want to crack open the gateway into an Otherworld with a few friends? Perhaps you are ambitious and naively want to gain dominion of cosmic powers. Will you be comfortable with mutating forces transforming you into a tentacled mass? Start the madness by searching for the mystical Sphere buried in the ocean near the submerged Kadath Mining facility. Lucas Kane, a marine biologist, is one of your tour guides. Here he observes Kadath, a mining facility with organic qualities (excerpt):
Kadath lit up below them drew his attention and caught his breath. The facility sprawled across the seabed like a sunken metropolis from another world, its illuminated structures pushing defiantly upward into the inky abyss. The station's domes and towers seemed like the last bastions of light and reason still standing in an endless Stygian wasteland. It was hypnotic, dreamlike, and yet somehow inexplicably solid. Lucas could make out the shuttle tubes running between the three main domes, as well as to the smaller, squarer outposts and middle structures. He could even see the primary enclosed drilling site not far off from the main facility, connected to Dome Three by long, spacious tubes.
This novel was inspired by Diemension Games' Deep Madness, a cooperative sci-fi/horror board game. The novel serves as a stand-alone book as much as it does a gateway into the game narrative. Non-gamers will enjoy it all the same since the key protagonists (Lucas Kane and Connor Durham) are freshly introduced, plus the story is a prequel to the story presented in the game. At the end of this article, there is an embedded movie overviewing the board game.